Data Logging & Printing
Inagas is proud to announce the addition of new and exciting development for the Smartfill and Multifill range. Customers will now be able to specify the option to have their machine with the Data logging and label printer feature.
With this advancement installed every IG produced will be recorded in a Data log. The time, date, filling line number, IG number, gas filling percentage, overfill timer and the fill cycle duration are all recorded and stored on the machine. This Data can then be downloaded to a USB stick whereby it will automatically be saved in an Excel file. The Data log can also be viewed via the touchscreen on the Smartfill and Multifill.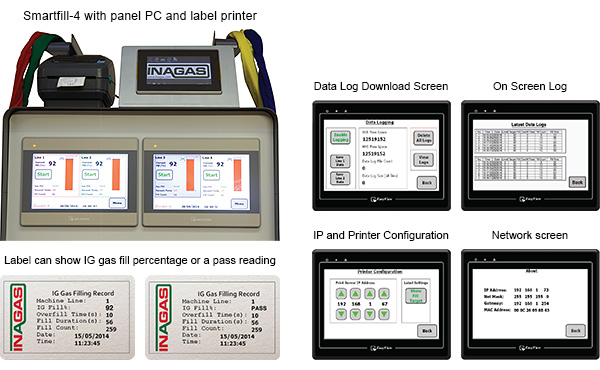 As well as keeping a record of each gas fill cycle this information can be printed on to an IG label. The Machines can be linked directly to a network to produce the label. Alternatively a Windows based computer such as a desktop, laptop or panel PC can be used to run the print server.
The information on the IG label can be used as an integral part of the IG quality control system, the information can be crossed checked using a gas tester as well as providing additional reassurance to the IG customer.