Other Products
As well as gas filling equipment, Inagas can supply gas testing and other related products as shown below.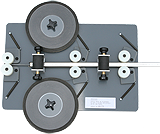 The Inagas tape is a butyl rubber, two sided, self adhesive tape reinforced with a cotton mesh for stability. This unique tape has been developed for spacer bar used in insulated glass units.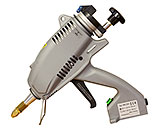 These guns are used to finish sealing hot melt made insulated glass units that have been manufactured using silicone bungs to cover the holes in the gas filling sleeves or corner keys.