Mini Hot Melt Guns
Inagas offers two different versions of the miniature hot melt gun. These guns are used to finish sealing hot melt made insulated glass units that have been manufactured using silicone bungs to cover the holes in the gas filling sleeves or corner keys.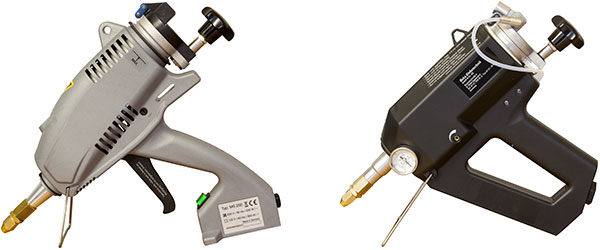 Mini Hot Melt Gun
A manual quick and easy solution to finishing the seal on hot melt units. The thermostate maintains the temperature to ensure a good bond. Operated by pulling the trigger to extrude the sealant. The pot reservoir is filled by using the bulk hot melt dispenser.
Power: 13amp single phase
Mini Air Operated Hot Melt
The air operated hot melt gun designed for the larger producer of gas filled units. The gun is filled with sealant using the bulk hot melt dispensed, a thermostat keeps the sealant at the correct temperature. Reliable, easy and fast to use.
Power: 13amps
Air: 0.15-7 bar