Sparklike Handheld™ - Gas Testing
Inagas is proud to represent Sparklike who over the last 15 years has become known for their non-invasive gas detection devices. The Sparklike Handheld™ and Sparklike Laser™ are considered industry standard worldwide.
Sparklike Handheld™'s technology is based on plasma emission spectroscopy. A high voltage spark is launched in the IG units cavity causing a light emission which is observed and analysed further. The user can simply place the device against the unit, press the button and receive an instant result with high accuracy. Sparklike Handheld™ is a perfect solution for glass industry's tightening production standards delivering quick and accurate quality sampling.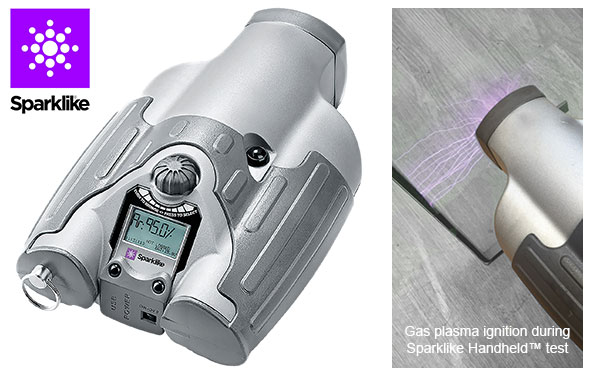 Key Benefits
Fast non destructive gas concentration test
IG can be tested repeatedly
Test the Argon and Krypton concentration
Data Logging compatible
Completely portable
Technical Specifications
Overall Dimensions
265x190x90 mm
Weight
2 kg
Operating Conditions
0 – 35 °C
Humidity
0 – 90 % R.H.
(Non-Condensing)
Main Power Supply
16,8 V Li-Ion Battery
2.0 Ah
Power Consumption
40 W
Battery Charger
Li-Ion Battery Charger
Connectors
USB and Battery Charging
Display
128x64 Pixel LCD Display
Measurement Time
1 s
Software
Sparklike Handheld Data Logging
Data Logging Capability
1900 Measurements