Inagas is back at China Glass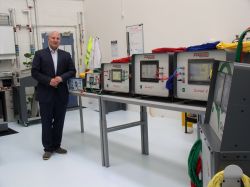 12th April 2018
As the fenestration industry's leading supplier of gas filling and testing solutions to not only the UK market, but to manufacturers across the globe, it's fitting that Inagas has a presence at the imminent International trade show, China Glass. In its 29th year, this year's exhibition takes place on 19th - 22nd April and Inagas will be showcasing the very latest in gas filling technology.
"We are a regular exhibitor at China Glass - with this being our seventh consecutive year - as it always proves to be an excellent platform for us from which to showcase our offering," explains Chris Kemp, Director at Inagas. "Last year the show attracted almost 33,000 visitors from 71 different countries, so it really is a great place to be. This year we will have machinery on two different stands. From the Qinhuangdao Lihai Tech. Dev. Co. Ltd stand, E6-166, we will be exhibiting a Smartfill-1. We will also be with a new partner in China, Boza Automation on stand E5-176, where we will be demonstrating the Smartspeed-1.

"The Smartfill and Smartspeed are fantastic examples of how we have developed and extended our offering over the years to meet the needs of the current marketplace. Visitors to the show can take advantage of our experience in the field, experience that spans over quarter of a century, while being able to see first-hand the most recent advances in offline gas filling, which, based on previous years at the show, we know will be well received."

Inagas' product will be demonstrated from stands E6-166 and E5-176 at China Glass, Shanghai New International Expo Centre (SNIEC) from 19th - 22nd April 2018.