Constant Evolution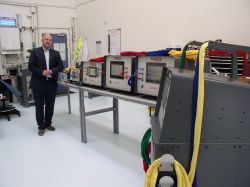 14th July 2017
Celebrating 25 years in 2017, Inagas is the fenestration industry's leading supplier of gas filling and testing solutions. Here, Inagas Director Chris Kemp talks about how the changing market over the last quarter of a century has encouraged the evolution of gas filling technology.
In terms of the economic climate at the time, you might have been considered a tad bonkers taking the decision to set up your own business back in 1992 with the UK in the grip of recession. However, there was a feeling that things were on the up and it was then that my father, Malcolm Kemp, identified a growing trend for IGU gas filling. He established
Inagas and started distributing imported machinery, manufactured by FDR Design Inc. in Minnesota, US.

Initially, the machinery that we imported revolutionised the UK market. The one hole gas filling method proved hugely successful and we supplied machinery to suit every level of production. Subsequent demand grew, as did the desire for faster, more efficient machinery. In 2002, demand was such that we needed more manpower so I joined Inagas and we took the decision to develop and manufacture our own range of Argon and Krypton gas filling machinery which launched 2003.

IGA Series
The IGA series was a complete range of equipment with models that met the argon gas filling requirement for small to large IGU producers, as well the growing market for Krypton gas filled IG. A raft of new features over the FDR range included adjustable gas fill settings; overfill timer and semi automatic calibration. At this point Inagas started to grow its international distribution network.

Smartfill launch: a series of firsts

In 2010, Inagas made two big announcements. Firstly, that it would be exhibiting at Glassbuild America with its American distributor Edgetech. Secondly, we would be launching a new type of gas filler, the ground-breaking Smartfill range, available as either a 1, 2 or 4-line machine. It was the first gas filler to feature a touchscreen menu and the revolutionary patent-approved Smartstart system. For the first time, Smartstart allowed an operator to remotely start the gas filling process by pressing a button on the lance body instead of having to return to the machine. The lance body incorporates an LED light, which on activation of the filling process turns green, then red on completion of the fill cycle.
Technology from the Smartfill range has since been incorporated in to a full range of equipment from the entry level Firstfill upwards.

Since the launch of the Smartfill, the market has seen an increased emphasis on quality and production traceability of gas filled IG. To answer this demand, Inagas developed the Data logging and print facility to record the time, date gas fill level, fill cycle time and line number of every gas filled IG. Currently over 60% of all Multifill and Smartfill machines are supplied with this feature.

A quarter of a century on

This year sees Inagas celebrate 25 years and also the launch of another brand new machinery range - the SmartSpeed, single or twin line machine designed for on-line high speed Argon gas filling. The internal IG pressure sensor automatically regulates the variable filling speed between 70-85 litres a minute, per line, to ensure a pressure balanced and accurate gas fill. Features from the Smartfill range such as the SmartStart remote, Data logging and print feature are included as standard.

In terms of our overall offering, we've certainly come a long way since 1992. It's no surprise that we've now grown our distribution network to over 15 territories with sales to over 40 countries.
We have a vast range of gas filling solutions available for all levels of production, but never rest on our laurels. We always want to offer our customers something new that could save them even more time and money. We are out in the field, working directly with manufacturers on a daily basis. We can identify market needs, develop ideas and launch products really quickly, as the entire process is under our control. We might have come a long way, but constant evolution is the key to surviving. We look forward to being at the forefront of the next gas filling technology drives within our markets.