Finesse Fills with Interfill from Inagas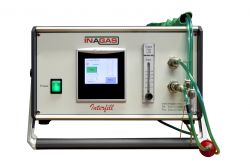 7th December 2016
Quality focussed and friendly fabricator-installer, Finesse Windows and Conservatories has recently purchased an Interfill machine from Inagas to meet the increased demand for gas filled units.
"The majority of the units we make, between 80-140 a week, are for ourselves," explains Mr Kerry Field, Managing Director of Finesse Windows and Conservatories, "and as the demand for gas filled units for energy efficient windows continues to rise, we wanted to install a faster gas filling solution to keep us ahead of this trend. That's why we chose the Interfill machine from Inagas. The impressive speed of the equipment allows us to make more argon filled units with ease. We have worked with Inagas for the last 5 years or so and continue to use them because we very rarely experience any problems but when we do they are sorted out quickly."

Chris Kemp, Inagas Director adds: "We're pleased to supply Finesse Windows and Conservatories with our gas filling solutions and most recently with the Interfill machine, because it's always nice working with companies who are so focussed on quality products and excellent customer service. The Interfill is the perfect solution for them because it is a compact single line 30 litre a minute machine designed for the production of Argon gas filled insulated glass units. A 100mm touch screen gives a live display of the timed gas filling process while gas percentage levels, overfill timer, data logging, pressure set and calibration features can also be accessed.

"Inagas offers a vast array of gas filling solutions to companies big and small and we look forward to developing even more new products to ensure we continue to meet the needs of each individual customer."

Finesse Windows & Conservatories was founded in 1986 and over the past 25 years has built a reputation for quality service, firmly cementing its position as one of the leading manufacturers and installers of PVCu windows, doors and conservatories across Maidstone, Medway and Swale.