Inagas launches the revolutionary SmartStart filling lance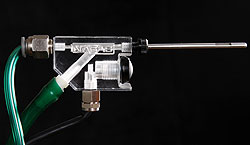 20th October 2010
Inagas, the industry leaders in the supply of gas filling machinery and testing equipment, has developed the SmartStart filling lance - supplied with their new Smartfill machinery range - which provides the operative with control from the lance, without having to return to the machine.
Malcolm Kemp, Managing Director of Inagas explains:"We have been working really hard over the last few years to ensure our latest products offer the next generation in gas filling solutions. During development of the Smartfill machinery range it became clear that having operation from the filling lance without the need to return to the machine, would provide the operator with greater control over the filling of multiple units. Constructed from top grade clear plastic with an embedded LED light and on/off button, all the operator has to do, is insert the lance into the unit and press the button to start the gas filling process. The LED glows green during gas filling, turns red on completion and turns off after 30 seconds. It's as straight forward as that and the operator can see at a glance the filling status of the units making production faster and easier.

"The drive towards efficiency and the increasing demand for Window Energy Ratings has not only spurred on the demand for gas filled glass units, but has also increased awareness around the importance of retaining the gas in the unit after it has been filled. At Inagas, we work closely with our customers and understand that as the market demands change, so do the requirements of their machinery and equipment."

For more information on gas filling machinery or any other products from Inagas, visit www.inagas.co.uk or call 01442 832764.