Fenestration China 2013: What a show for Inagas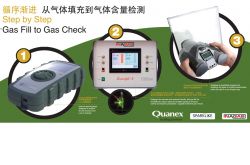 14th January 2014
As the rest of the industry was tidying desks getting ready for the Christmas break, the Inagas team was busy in Shanghai at the 2013 Fenestration China show.
With a decade under its belt, the exhibition is now a flagship trade event for the fenestration and glass industries, and is ranked in the top 3 specialist shows globally.
Inagas Director Chris Kemp comments: "The show was fantastic for us in terms of taking our message to this exciting growth market. Together with our international partners Quanex and Sparklike, our stand focused on the Step by Step process for perfect gas filled IGUs – from analysis, to fill, to check:

Step 1: Use the special gauge designed to analyse the IG unit structure and Low-E coating

Step 2: Designed for accurate and operator-friendly, fast gas fill, the Smartfill has unique visual and audible signals to enhance control and improve productivity - capable of 30 litres per minute

Step 3: Use Gasglass, specifically designed for checking the argon or krypton concentration within IG units in a non invasive way

Visitors to our stand got the message about the ease and accuracy of the process very quickly, and we look forward to doing a lot more work in China.