Inagas Launch the Smartfill Range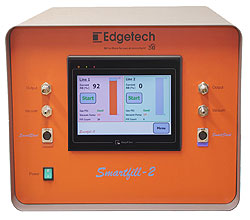 4th October 2010
Inagas, the industry leaders in the supply of gas filling machinery and testing equipment, have launched their new range of Smartfill machinery, providing IGU manufacturers with the next generation in gas filling solutions.
After two years in the making, Malcolm Kemp, Managing Director of Inagas explains: "We have been extremely busy over the last few months investing time and money in bringing together the last two years development of our new Smartfill range of gas filling machinery, offering a truly unique solution. Capable of filling one, two or four units at a rate of 30 litres of gas per minute, the Smartfill 1, 2 and 4 are the latest market innovation in Argon only gas filling machines. The Smartfill range also boasts touch screens which thanks to unique visual and audible signals enhance user control and improve productivity.

"With a gas filling solution to satisfy every level of production, Inagas is able to balance cost effectiveness with the energy efficiency demands of the market - so the investment cost is realistic – providing you with a solution that will not only meet the requirements today, but will safeguard your company's future by providing a solution that can be adapted to meet future market requirements."

For more information on gas filling machinery or any other products from Inagas, visit www.inagas.co.uk or call 01442 832764.