The handheld gas testing device from Inagas - the TestOxy 2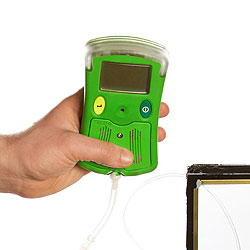 23rd October 2010
Inagas, the industry leaders in the supply of gas filling machinery and testing equipment, announces the launch of the TestOxy 2. Developed to meet the October 1st Building Regulation revisions, where a greater emphasis will be placed on gas filling, this new handheld testing device offers smaller and medium volume unit manufacturers a cost effective, accurate and easy to use measurement system. It can be used for testing Argon, Krypton, Xenon and mixed gas content.
Malcolm Kemp, Managing Director of Inagas explains:"In order to maintain EN1279 parts 2 and 3 accreditation and to ensure consistent quality levels, producers of insulated glass units need to test gas concentration levels on a regular basis. The TestOxy 2 has been designed to give an accurate analysis of gas concentration at an affordable price. Although the testing process is invasive, it is non destructive when used on-line during manufacturing, so cuts down on waste. To use the device, the operative simply inserts the probe into a sealed unit and presses the start button. After a few seconds of calibration, the TestOxy 2 works its magic, the gas percentage in the IG unit is shown, and hopefully compliance proven.

"The TestOxy 2 is just the first in a series of new product launches and innovations we'll be releasing over the next few months, all engineered to help the gas filling and gas retention processes run as smoothly and as cost effectively as possible."

For more information on the TestOxy 2 or any other products from Inagas, visit www.inagas.co.uk or call 01442 832764.